Hey gang, just wanted to share some thoughts on the
EasyScriber
now that I've had an opportunity to give it a try. This is a useful tool for the right application, and I just ordered two replacement tips to make sure I've got some backups in case I am relying on it for something. I think it's also important to know what it can, and can not do well.
When EasyScriber Works Best
The EasyScriber basically replaces the consumables in a Hypertherm torch, and it has a spring loaded tip with a tiny diamond in it. You can run your CNC machine just like you were cutting, only without turning the torch on. It drags the diamond across the material with just enough pressure to actually leave a mark.
If you have a nice clean piece of material, like a sheet of pristine stainless steel or aluminum, EasyScriber will enable you to scratch a design into the surface that's pretty visible. This can be used for things like serial numbers, or assembly instructions. This video demonstrates this use for marking a stainless part with a serial number.
https://youtu.be/i9KSVPER_Og
The EasyScriber is also useful if you have a material with a colored surface.
Weldguy
shared a cool post where he engraved a painted surface.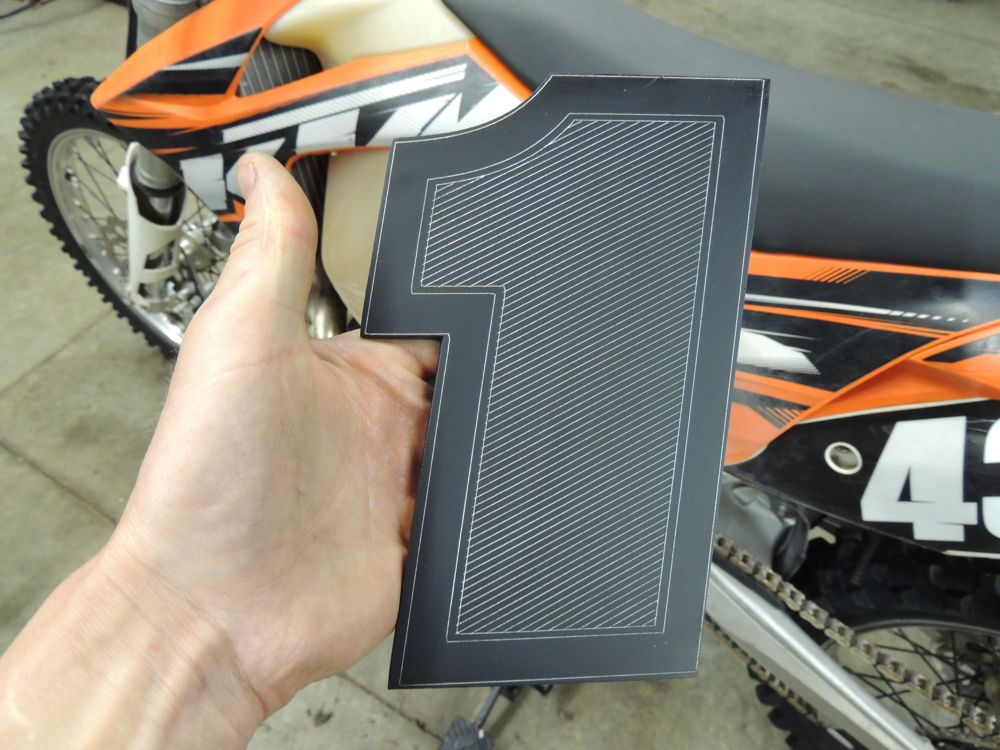 Doing so renders excellent contrast so you can see the lines much better. Also note that the entire surface is marked up, because the lines are extremely fine so it's important to essentially color in the area with lines.
Also, keep in mind there is no reason you couldn't use the tool on a material like Lexan or some similarly tough plastic.
When EasyScriber Doesn't Work So Well
If you're looking to make permanent markings in materials covered in mill scale, or other imperfections, the EasyScriber is probably not the right tool for the job. I attempted to create a little nameplate to attach to a welding table, but failed.
I was engraving 3/16" A36 mild steel plate, and the tool did indeed scratch the surface. Unfortunately the marks are so superficial as to be basically invisible.
Here's a closeup of one letter.
Of course this is either good or bad news. For my purpose this wasn't going to work out. However, if you want to mark up material with instructions or information for fabrication purposes, but don't want it visible on finished parts the lines will all but disappear with removal of the mill scale, or with a nice powder coat job or application of self leveling primer.
I haven't experimented with it yet, but one idea that comes to mind to improve visibility would be to paint a surface after engraving, and then sand away the paint leaving only the grooves with paint remaining. Might just work...
Bottom Line
The EasyScriber is definitely worth adding to your arsenal of tools, and works great for inconspicuous marking of parts - or when you have a high-contrast surface to engrave. It is not, however, a tool that will allow deep, permanent marking of plain steel for decorative or informational purposes.
Hope this helps people who have been looking for a little more info on this tool.